2021 UPDATE FROM FRANKE COMMERCIAL
NEW from Franke Commercial- The Nightingale Series of Hygiene Sinks!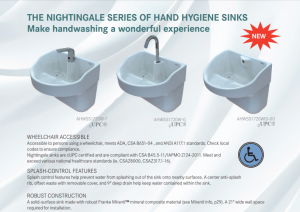 For more Franke Commercial Updates We are pleased to announce that we have a new 2021 catalogue and a new healthcare brochure available for you to download. There are exciting additions to our product lineup to address the shifting needs of our customers during this time of COVID. Our Healthcare Brochure has been completely revamped with a new look and feel.