Calefactio invites you to visit our digital booth at the Virtual Modern Hydronic Summit 2021
It will be a great opportunity to meet you all and to show you some of our best products.
Register for FREE https://pheedloop.com/modernhydronics/site/register/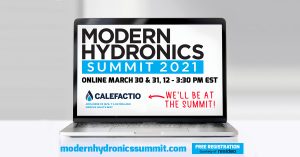 This is the schedule of our presentations:
Join us at our booth for a live product presentation and enter the chance to win the presented product.
Live product presentations on
Tuesday 30th @1:00 pm – Calefactio CondennSAFE – Residential Condensate Neutralizer
Tuesday 30th @2:00 pm – Calefactio Brass Products –Pump Flanges, Air separators and Tankless Valves
Tuesday 30th @3:00 pm – How Flow Through Tanks minimize bacterial growth.
______________________________________________________________________
Wednesday 31st @ 1:00 pm – Calefactio Expansion Tanks
Wednesday 31st @ 2:00 pm – Calefactio GMP (Glycol- Make-Up Packages) for residential use
Wednesday 31st @ 1:00 pm – Calefactio Hydraulic Separators "CALBALANCE"
To enter for a chance to WIN the presented product, simply watch our product presentation and click the "Request Information button" at the end of the presentation; we will draw from the participants names and the winner gets a FREE product deliver to their location * offer valid to participants that currently are members of the plumbing and heating industry in Canada-