The newly engineered JX is built with a digital control system that is designed to meet the needs of a variety of systems.
Laars Control Features:
• Seven economy modes that help match boiler function to the needs of the home.
• When an outdoor temperature sensor is used, the controller can be set to run with outdoor reset, or economy modes can be run with warm weather shutdown.
• An integral low water cutoff is included, and can be set for automatic reset operation, or manual reset with test.
• Contacts to control boiler pump, system pump, and indirect water heater pump (with DHW priority)
Easy-to-use field interlocks, and powered relay contacts for external devices
A low loss header with boiler pump is standard equipment on models that are 125 MBH or larger, to take the guess work and labor out of proper field piping.
Laars Low Loss Header Features: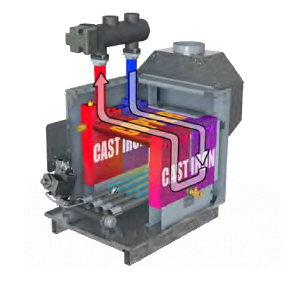 • Maintains the correct temperature rise (Delta-T) across the heat exchanger
– offering improved performance and longer heat exchanger life
• Protects the heat exchanger from low return water temperatures
• Allows for direct replacement of traditionally piped cast iron boilers
• Low loss header comes standard on 125, 150, and 200 MBH models
• Optional on 50, 75 and, 100 MBH models