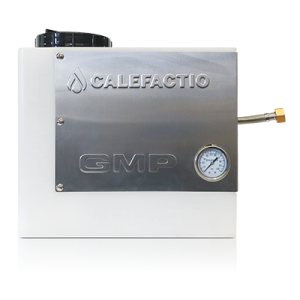 Calefactio is proud to present the latest addition to its acclaimed GMP line, the GMP4. This new model is the lineup's most compact yet, and while offering residential installations numerous advantages, some inclusions are certain to be appreciated by users and installers alike.
The GMP4 features a 15 L (4 gal.) tank perfectly suited for mid-sized residential applications, and can be used for glycol heating or cooling for systems holding up to 300 L (79 gal.). Among its outstanding features are its rectangular design and compactness, meaning it occupies less space in occasionally cramped mechanical rooms. As well, it comes with its own wall-mount rack so the installer simply hangs the device at no further expense. The GMP4 is also equipped with an alarm floater so that users can hook up a sound alarm and be notified when liquid levels fall too low, a potential sign of leakage.
The GMP4 is available immediately. For details, please click here or upload our brochure. For a sales point nearest you, please view our list of regional representatives.