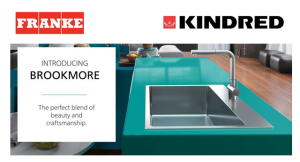 We are delighted to announce the launch of the New Brookmore Stainless Steel Sink Collection. Brookmore is an excellent combination of bold design and functionality. The satin finish ensures a tasteful and clean aesthetic to match perfectly with any kitchen interior. Find the perfect solution for any kitchen from our wide range of 24 models.
Launching October 1st 2020, Brookmore is the new comprehensive range of contemporary durable sinks, providing an excellent combination of design and functionality in the mid range segment. Easy to install thanks to EZ Torque revolutionary installation system on select models. Ideal for showrooms, designers, homeowners looking a fresh design to the standard sink. With clean lines and modern curves.
Click Below to Download the Digital Brochure with Canadian List pricing.