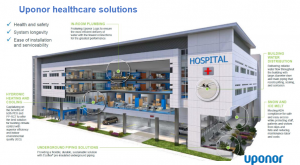 For building water distribution, Uponor piping delivers reliable water flow with large-diameter riser and main piping that resists pitting, scaling and corrosion.
For in-room plumbing, the Uponor Logic system ensures the most efficient delivery of water with the fewest connections for the greatest performance.
For hydronic heating hot-water piping, chilled-water piping and radiant heating and cooling systems, buildings can capitalize on the benefits of both PEX and PP-RCT for the best climate control solution with superior efficiency and indoor environmental quality (IEQ).
For snow and ice melting, Uponor systems help meet ADA requirements for safe and easy access while protecting staff, patients and visitors from slips and falls and reducing maintenance labor and costs.
For underground piping, Uponor offers a flexible, durable, sustainable solution with Ecoflex® pre-insulated underground piping systems.
Contact your local Rep or Check out www.uponorpro.com for more information.