Delta® VoiceIQ Technology creates revolutionary kitchen faucets that think on demand.

• Command faucet to turn on and off, dispense a metered
amount or fill custom containers like your coffee pot.
• Hand wash feature provides the proper timing for lathering,
scrubbing, and rinsing your hands
• Pairs with Amazon Alexa- and Google Assistantenabled
devices.
• A retrofittable VoiceIQTM Module for Delta® Touch2O® faucets
manufactured after 01/01/2018 maximizes style options.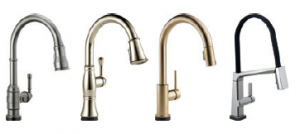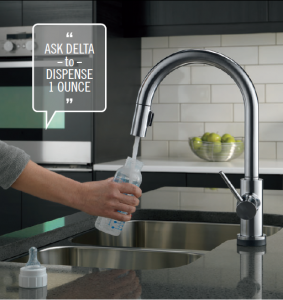 Three Ways to Upgrade
1. Use the VoiceIQ™ Voice Activation Module to upgrade
any Delta® Touch2O® Faucet manufactured after
01/01/2018.
2. Purchase a new faucet featuring Touch2O
Technology and use this module to upgrade it to
VoiceIQ Technology.
3. Purchase a Trinsic® Kitchen Collection faucet already
enabled with VoiceIQ Technology.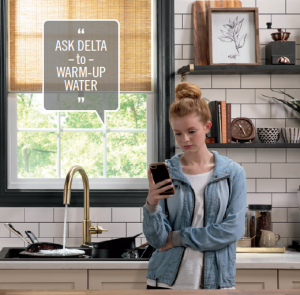 Responds to voice commands to:
Turn on / Turn off
Dispense (amount)
Ounces, cups, pints, quarts, gallons, litres and millilitres
Fill (custom container)
Custom container commands allow you to set custom
dispensing amounts, e.g. "fill dog bowl"
Warm-up water
Heats the water to 35°C (95°F)
The handle must be set to hot
Wash my hands
The water will begin to flow. Run your hands under the
stream to wet them.
The water will turn off for 20 seconds while you wash
with soap.
Wash your hands until the water turns back on.
The water will turn back on for a 10 second rinse.