Your Going to Love This Sink! Franke Maris Granite Sinks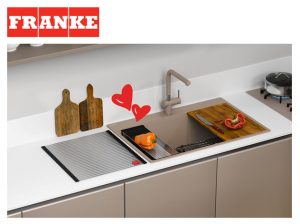 Franke Home Solutions is proud to announce the Maris Granite collection a perfect addition, paring modern looks with clever features and creating the ideal union of design and functionality. Beautiful design is all in the detail and Franke's brand-new Maris sink range captures all the qualities of being Swiss designed. Maris offers a suite of Granite sinks that combine contemporary design and craftsmanship quality, in six harmonious hues.
Made from 20% resin and 80% natural quartz–one of the hardest durable materials known to man, Franke Granite is a perfect choice in many environments, especially in busy family homes. Easy to clean and exceptionally hygienic, Granite is treated with Sanitized® – incorporating silver ions within the material, to reduce bacteria and microbe growth by 99%. What's more, granite does not stain, scratch and is impact resistant.